Yesterday I was thwarted in my cake decorating attempts by a birthday girl with a fever of 103. Today she was feeling better so I sent her to my mom's house. :) Mmmmm. Cake. Cake is one of my favorite things.
I have NEVER decorated a cake. I have rarely even made a cake, though I bake quite a lot. I've attempted to make them and decorate them for my childrens birthdays but they have always ended up being decorated by my mom. My mom makes cakes that
look like this (Lily's 4th birthday cake.)
She and a friend worked in a grocery store bakery when I was a child and eventually started decorating cakes for local families from our house. She is an artist and cakes were only one way for her to express her talents. I am NOT an artist. I do not have her keen eye or steady hand. Any attempt at cake decorating turned into my mother stealthily taking over the icing bag. One year I wanted to make a Buzz light year cake for my son. She let me do the sky. Truth be told I probably never really minded her doing the work because then I didn't have to submit my sub par work for her approval.
THAT ALL CHANGED TODAY! I was resolved that this year I WOULD make the girls birthday cake (it was a joint party for both of my girls Violet's on the 10th and Lily's on the 19th). I had seen a mickey icon inspired cake on the web and thought "HEY! I can do that!" Did I bookmark the instructions? No. Could I find them after an hour of scouring the net? No. I would have to go it alone. Or at least with only the help of my dear husband Brandon, who is himself an artist so I was glad to have his eyes (and sometimes hands) on the project.
Aside from giving you a glimpse into my first try at cake decorating and my love of cake I'm also letting you in on another favorite (read: obsession) of mine. The Mouse. I love all things Disney. I live a short one hour and 50 minutes, door to door, from The World. Fortunately my kids and my hubby love Disney too or at least he tolerates it for us.
NOTE: I am generally the crafting for dummies test subject. If I can do it I usually feel pretty confident that ANYONE can do it. This is certainly no exception to that. I have little to NO cake decorating experience and few actual decorating tools.
Here we go, my first tutorial. HOW TO MAKE A MICKEY ICON CAKE.
THIS is what it looks like finished. It is not a precise thing, there was a lot of playing and fidgeting. So if yours looks slightly different that's ok, as long as it looks like a Mickey head ;) I wish the pictures were better, the silver tin foil isn't the best background and I was using my dad's camera which I was not at all familiar with. I will work on better pictures in the future. It's really not wonky, it's just the angle.
I made it with polka dots so the girls would say it was a Minnie cake. Polka dots always mean Minnie Mouse and I couldn't wrap my head around making a bow.
For this cake start with 2 10" round cakes and 2-4 6" round cakes. Preferably 4. I over filled my 6" pans and didn't have another cake mix (I did NOT make these from scratch *gasp*) so I tried to make due with the 2 I had. You'll see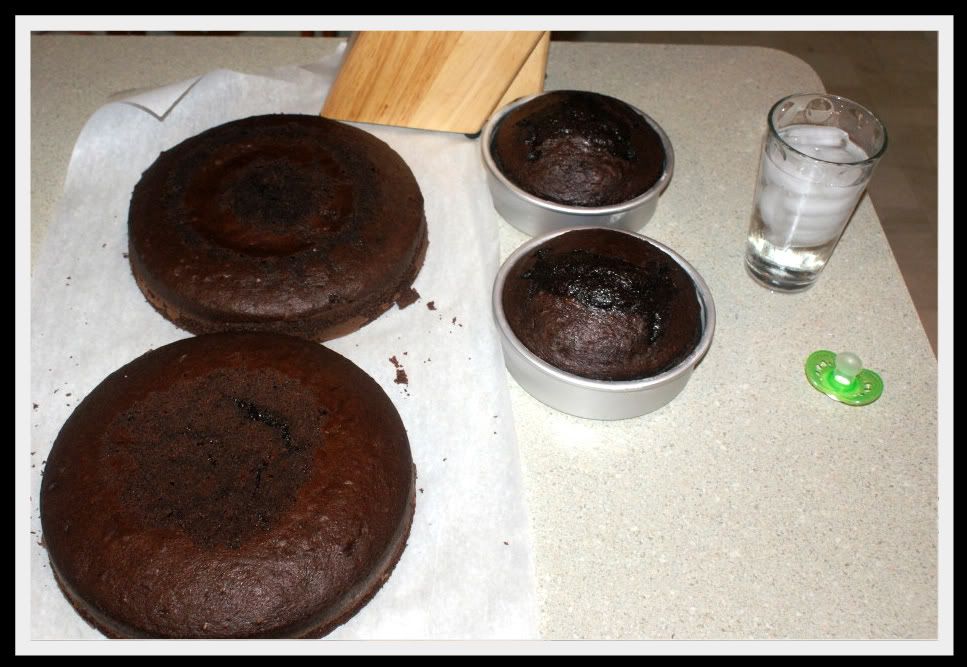 that fiasco a little later. The Nuk is not necessary.
Because I over filled my 6" pans they were considerably taller than my 10" cakes. They weren't quite as tall, however, as my 2 10" cakes stacked. My clever answer to this was to shave the rounded top part of the 10" cakes to make them flatter and a little shorter. That still didn't make the 10" cakes short enough so I had to make the 6" cakes a little taller. I cut them in half and when we added filling I also added pieces of the tops I cut off of the 10" cakes.
THIS is where you learn from my fumbling mistakes and fill ALL of the 2" deep pans equally so that they are all relatively the same height. Make 4 normal sized 6" cakes and bypass that whole shaving and filling part. Filling the pans correctly will also eliminate the rounded puffy ears that I have here, although I think they turned out pretty cool, a little 3D.
I borrowed this nifty cake knife from my mom. It has a very teeny serrated edge and made a really clean cut.
Technically I stole it, but I plan on returning it to her drawer before she has to make my nephew's cake in 2 weeks so she'll never know. Unless, of course she reads my blog. I ain't skeered.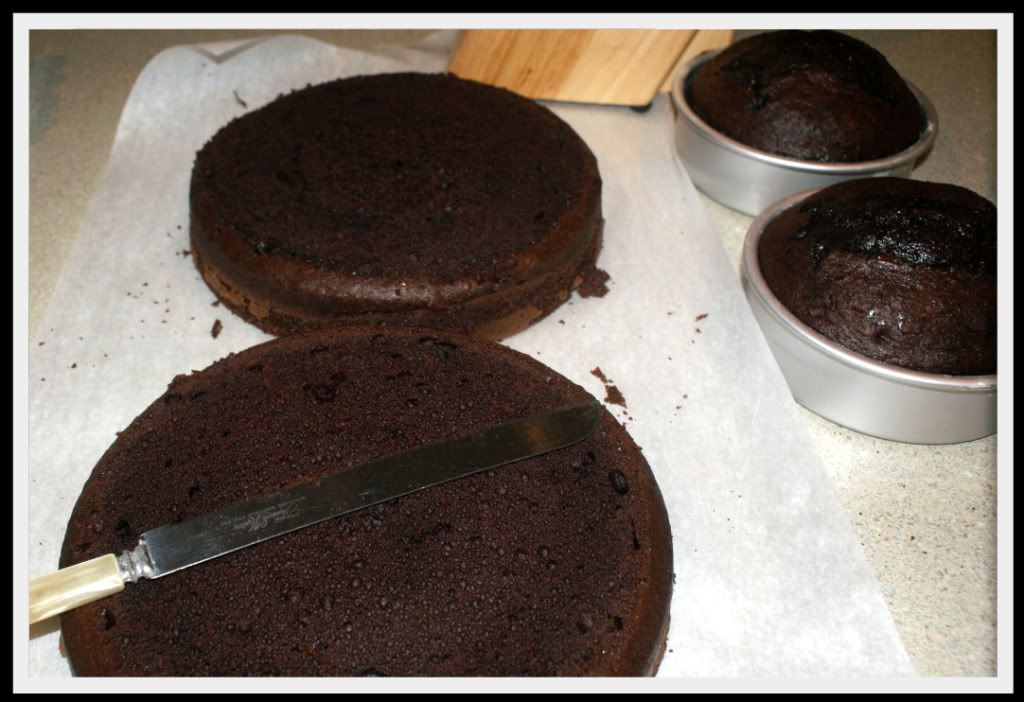 After leveling the cakes I decided that I'd like my ears to be recessed into the Mickey head not just sticking out on top. To do this I laid the 6" cake pans on top of the 10" cake to figure out where they should go. Then cut around the pan on one side. To make sure they were the same size I then lined the cut out piece up on the other side and cut around it. NOTE: use the bottom of the pan it is closer to the size of the cake. Yeah, hind sight is 20/20.
Stack the cut out 10" cake on top of the other 10" cake and cut the ear spaces out of the bottom cake.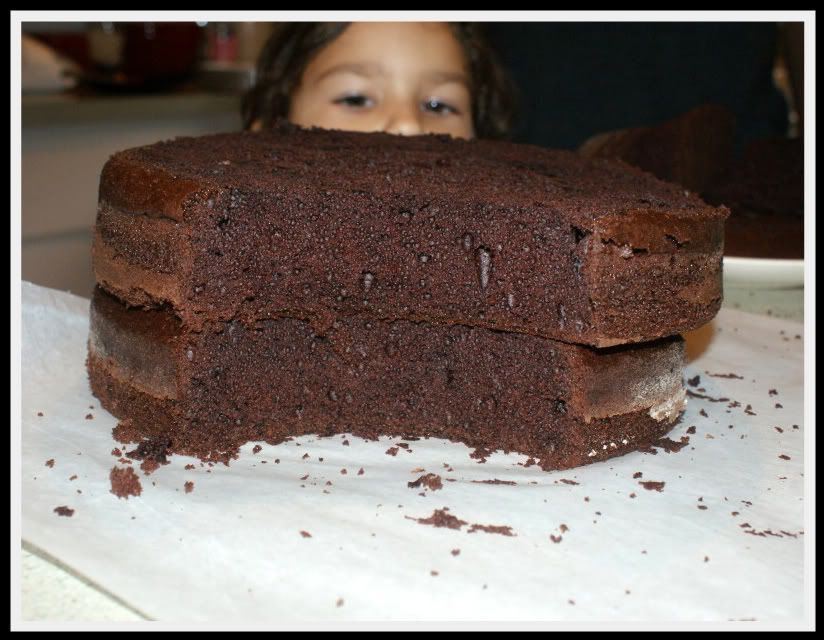 The next part is sandwiching everything together with icing. Which brings another opportunity for you to learn from me and do as I say, not as I do. Or did, rather. While making
Wilton's chocolate butter cream icing
( I used Hershey's Dark coco powder instead of regular) I doubled the Butter, shortening and vanilla but forgot to double the coco powder or the sugar. OOPS. Fortunately it was only the filling and it tasted fine, just a little creamier. I realized the mistake before I made another batch to ice the cake. This could have been avoided by starting the cake earlier than 3 hours before the party and not being rushed. This little screw up cost me time and money. The icing I had worked fine for filling but was too creamy for decorating and didn't produce the volume I needed so I had to make more. The second batch of chocolate icing used up my remaining butter and almost all of my shortening and I still had to make pink icing for my dots. LUCKILY our Publix bakery sells it's butter cream icing by the pound or other increments if there is bakery personnel to modify it for you. If someone is working in the bakery they will also color it for you. Of course no one was so I had to do it myself or at least delegate the task to my hubby.
Lay out 1 layer of your cakes (1 10" 2 6") and put the ears in place. Spread the desired amount of icing over all of the cakes then stack the remaining cakes on top. In these pictures you can see how I had to build up the ears with the tops I cut off of the 10" cakes. You can also see how how it looks if you can make the ears flat instead of super puffy.
Brandon decided to smooth a bit of icing on the sides of the ears to fill in the gaps where we built them up. You won't see this later b/c we're going to ice over it.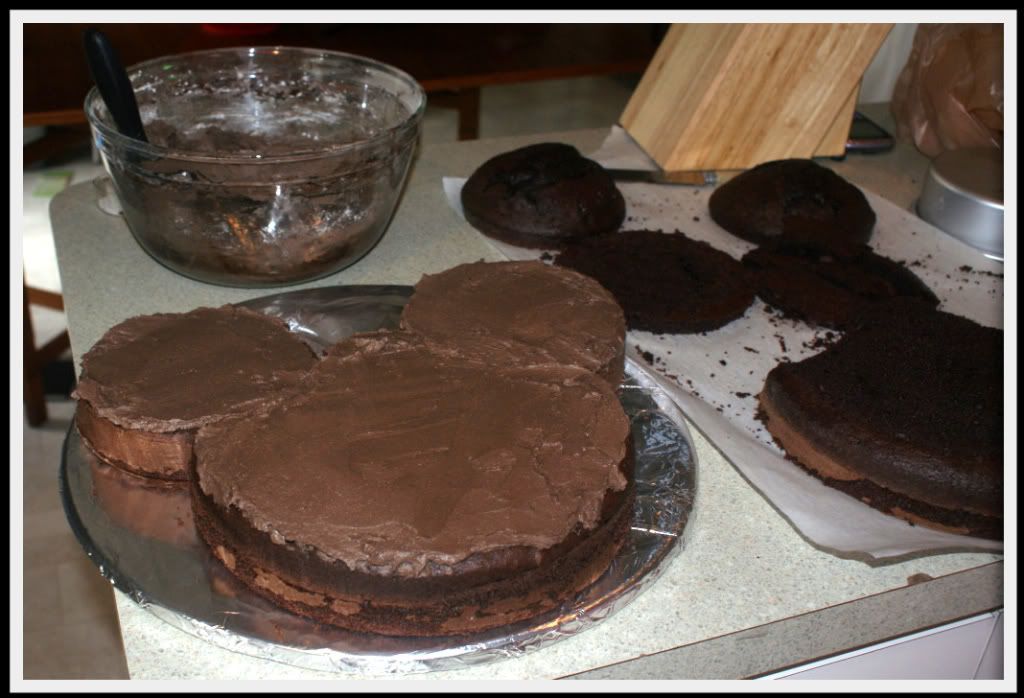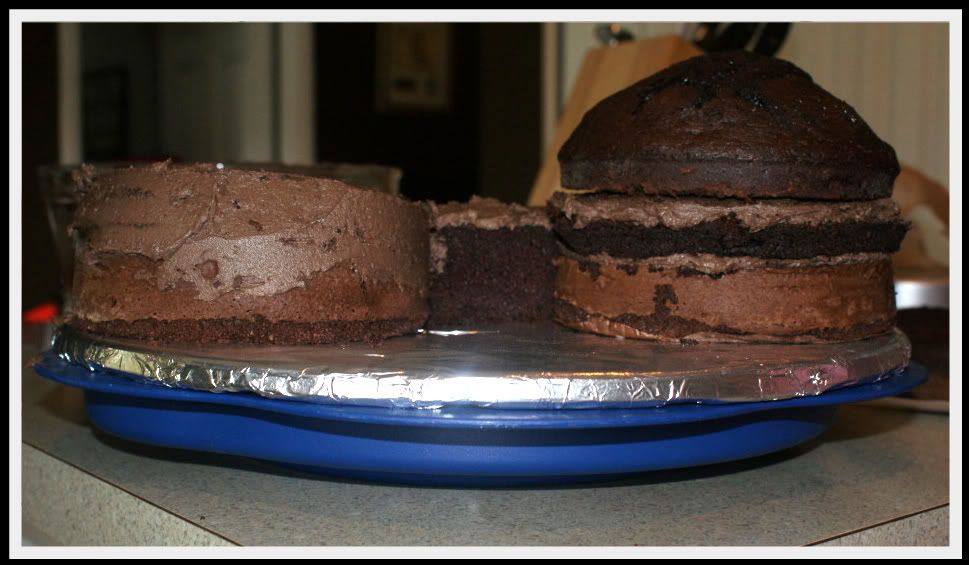 After we had the whole cake together I asked Brandon to place the polka dot outlines while I mixed up the second (correct) batch of chocolate icing. I gave him a small dish of powdered sugar and half of a small plastic Easter egg and showed him how. I dipped the open end of the egg into the sugar then pressed it lightly onto the cake. VOILE! He thinks I'm a genius. I left the polka dot placement up to his discretion. :)
Here comes the fun part. Icing. If you do not decorate cakes regularly I recommend
THESE
disposable decorating bags by Hutzler. They come w/ 3 decorating tips (2 different sized star tips and a piping nozzle) you'll need a smaller start tip than what comes in this package to do detailed stuff but for large spaces these are perfect and you can just throw the bag out and not worry about cleaning all that icing. Normally I'm a reusable kind of gal but I can live with throwing out 2 or 3 decorating bags a year. If I used them more regularly I would certainly invest in reusable bags.
I used a medium sized star tip to ice the entire cake. My mom always decorates cakes this way and I like the look it gives. It has texture and depth. I thought it was best to start by outlining all of the dots. It is easy enough to squish an extra star into an empty space but if you get to a place on the outline where there isn't enough room then it will make your polka dot wonky. After outlinining the dots I filled in all of the rest of the chocolate icing. While I was doing this Brandon ran to Publix to get that butter cream icing I needed for the pink dots. (HEY! There is a hidden mickey in this picture LOL)
Finally fill in all of the polka dots with any color you like. My princesses like pink, of course. I love brown and pink plus the color combination allowed me to use chocolate icing which is my favorite. I'm a little selfish when it comes to cake.
I meant to put their names on the cake. Oh well, it was pretty anyway and there's always next year.